Pocket, my 11 year 5 month old Scottish Terrier was referred to Dover Veterinary Referral Hospital, Dover, New Hampshire on October 12, 2006 by Edgefield Veterinary Hospital, LLC , of Hampstead, New Hampshire, owned by Brad Barnes, DVM
for an ultrasound to confirm an abdominal mass "as seen on x-ray" (click here)by Sara Curry, BVSC , NH Lic#1747, last listed as employed at Veterinary Emergency Center of Manchester, 336 Abby Rd. Manchester, NH.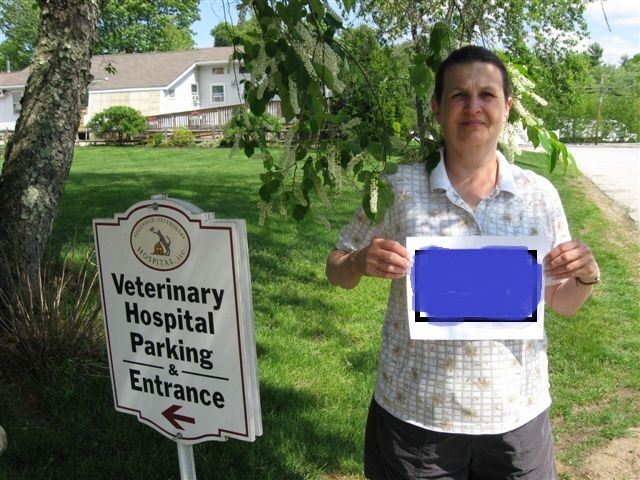 Pocket's ultrasound was performed by John MacGregor, DVM, DACVIM (cardiology)NH Lic#1681, MA Lic#4879, and ME Lic# VT1752, formally of, 96 Durham Rd, Dover, NH, presently listed as Port City Veternary Referral Group, who took on responsibilty for her diagnosis and treatment.
Pocket's final injection of unknown substance was administered by Cathy Gajewski, DVM (current President of the NHVMA, ) NH Lic#1164,(former ME Lic#VT1120 failed to renew 9/30/08, under Catherine S. Findlen Gajewski of 39 Two Mile Rd., Barrington, NH,
alternate addressDexter, ME.) And currently employed by Broadview Veterinay Hospital, 134 Ten Rod Road, Rochester, NH
Pocket spent 7 days at Dover Veterinary Hospital on IV fluids unable to hold down the sparse amount of food she consumed. Edgefield Veterinary Hospital never called even once in the entire week to inquire about her well-being.
Dover Veterinary Hospital OR Seacoast Veterinary Assoc., PA
Durham Road, Dover, New Hampshire where
Pocket was treated and died in my arms
Upon review of Pocket's medical records, I filed a 4 page complaint to the NH Board of Veterinary Medicine on November 7, 2006 and an additional 2 page letter with more details & witness names on December 27th. Brad Taylor, DVM , (board member NHVMA) of Riverside Clinic, Boscawen and Capital Area Veterinary Emergency Services, Concord--past Vice President of the NH Board contacted me to investigate via a single phone call (see complaint http://popupwalnuthill.bravehost.com/popup2.html) on January 5th. I then submitted a single page final summary response on January 7th.
The Board voted to "not find for Unprofessional Conduct" and "dismiss , without predjudice..." on January 23, 2007.
(replace Board list)
three DVM's and support staff , $3000 and over a week of prescribed treatment and I still have questions regarding Pocket's case.
---
Did we receive special treatment because Pocket's long-time partner of Edgefield , Susan Tasillo, DVM relocated to another state ,after many years of providing care to my 8 dogs and two cats ?
Why were we referred over an HOUR away, when a new state-of-the-art veterinary facility was within 15 minutes of my home, with cat-scan and ultrasound capabilities?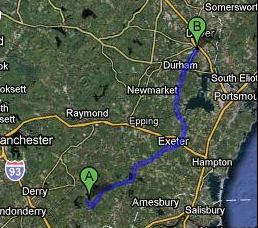 vs.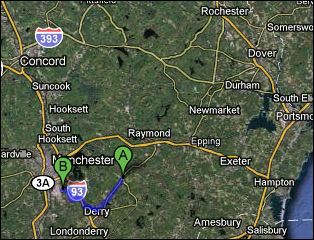 Was it because both clinics participate in the "Great Bay Community College veterinary technician teaching program" ? Do these clinics receive state-sponsored financial incentives via program funding? Does the University of NH, Durham vet tech program participate in this also?
What disease process contributed to her end-stage failure?
Pocket was on the liver damaging narcotic drug Phenobarbital her entire life. Her seizures stopped upon the addition of soloxine, until after medical advice, and damaging elevation of liver enzymes, she was weaned down to a breakthru seizure 11/05 and then maintained no subsequent breakthru on a smaller maintenance dose.
I was asked to bring her bottle of liquid Phenobarbital & pills to DVH for administration.
Why were my requests for euthanasia repeatedly discouraged and not honored, as per admitted records?
Why was I (and Bill) not fully informed as to her lab work and her pain & suffering unnecessarily prolonged ?
(see food & elimination chart here-view website)
Why did her euthanasia appear so unusual, prolonged, and abhorrent to me , her caretaker and witness?
What did the vet tech students from GREAT BAY COMMUNITY COLLEGE Margaret A. MacGregor-Nicol, program director, learn from Pocket?

Why would a NH STATE SPONSORED - Great Bay Community College allow impressionable students to witness sadness ,suffering, and assign students to Pocket for observation and practice, without the Owner's prior consent?
Why has the state of New Hampshire allowed unlicensed DEA (Drug Enforcement Agency) vets/clinic to have contact with companion patients/clients and allow euthanasia records & drug invoices, & schedule 222's not be kept or released to the paying Consumer client?
Why would the state allow the investigation to be conducted by a current and future colleague(s) and employer?
Why did the State of New Hampshire make chages to the NH Veterinary Practice Act & Controlled Substance Act effective 2008?
Why does the NH Board of Veterinary Medicine have three (3) members with pending or closed complaints against their clinics? Is it a pre-requisite for recruitment by our Governor for appointment?
---
---
October 2007 , before the expiration of the NH RSA statute of limitations, I filed a complaint at the Dover Police Department , Kathy Ladisheff , ACO and Sgt. William Malsbury , read the response
(here view page http://popupwalnuthill.bravehost.com/Popup6.html)
---
---
AS A MATTER OF PUBLIC CONCERN READ STATISTICS AND ABUSE OF GOVERNMENTAL RESOURCES HERE:
http://aligus.com/AboutVetBoards.html
THIS IS NOT EXCLUSIVE TO NH , but a national issue od unaccountability, simply because YOUR pet woth the world to you is viewed as replacable CHEAP CHATTEL in the "eyes" of the legal system___
***Take measures , ask questions, long before you are in a difficult situation with your pet****